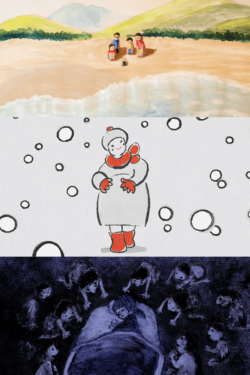 Showtime

Friday, February 12 @ 3:00pm

Director

Arisa Wakami, Azuru Isshiki, Ayaka Kawasaki

Country

Japan

Language

Japanese

Film Length

28 minutes
There is a drama for every childbirth. This films is an omnibus of animated documentaries that visualize experiences about childbirth. The first chapter, titled "Birth on the Other Side of the Mountain," is the story of a female who grew up together with nature in an island village and aims to be a midwife, as she ponders childbirth, life, and being alive. The second chapter, titled "There, There, My Baby," is the story of a childbirth in which the mother spoke with the baby during its entire stay in her womb. The third chapter, titled "My Own Way to Become A Mother," is the story of a young girl who grew up without knowing her mother. She gathers the pieces of her family together as she becomes a mother herself.