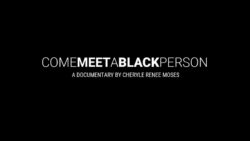 Showtime

Saturday, February 13 @ 6:00pm

Director

Cheryle Renee Moses

Country

USA

Language

English

Film Length

4 minutes
After reading a study that found 75% of whites do not have non-whites in their social network, Cheryle Renee Moses named an annual holiday mixer "Come Meet A Black Person". The event went viral across the world. Moses believes our racial divisiveness is because we do not personally know people of other races and cultures. The "Come Meet A Black Person" event provides a comfortable setting for strangers to come together and genuinely get to know each other. The event was a success. But the co-working space – Cornerstone in Lawrenceville, GA — that Urban Mediamakers was a paid member and where the first "Come Meet A Black Person" event kicked the organization out after the event. Why? Because of a bogus "violation of code of conduct" accusation and Cornerstone did not want the pro-Black event nor organization on their premises. The "Come Meet A Black Person" event was relocated. Moses sued Cornerstone Coworking Space and decided to run for Georgia State Senate District 9 representing the area. As a first time candidate against a three-term incumbent, Moses received 49.1% of the vote in the November 2018 general election.
Featuring Whoppi Goldberg, Sunny Hostin, Sara Haines, Jeannie Mai, Tamera Mowry, Loni Love, Cheryle Renee Moses and various local and national news reporters.