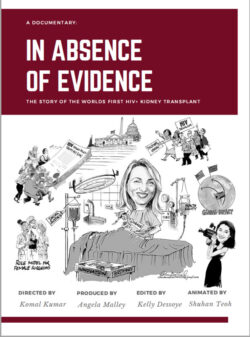 Showtime

Friday, February 11 @ 7:00pm

Director

Komal Kumar

Country

USA

Language

English

Film Length

8 minutes
In Absence of Evidence tells the bold story of Dr. Elmi Muller, a South African female surgeon who performed the first HIV-positive to HIV-positive kidney transplant in the world. At a time of HIV denialism in South Africa, where patients with end-stage renal disease and HIV had no treatment options, she pioneered an established procedure on a stigmatized population. 
Dr. Muller's perseverance in pushing this life-saving innovative approach forward in the absence of evidence and in the face of resistance is nothing less than commendable. She has laid the foundation for scientific discovery, impacted legislation beyond the borders of her country, and has made a significant contribution towards health equity. With over 150 surgeries in 4 countries and over 100 research citations in her repertoire, the 'Muller Effect' has only just begun.